Boxing is—and always will be—bigger than a single fighter. That said, the sport is also so unique and engaging because of the personalities it produces. Fighters like Jack Dempsey, Joe Louis, Muhammad Ali, Ray Leonard, Mike Tyson and Oscar De La Hoya, to name a few, have all helped define their respective eras.
Currently, boxing fans find themselves, for better or worse, in the age of Floyd Mayweather and Manny Pacquiao.
The privilege of watching genuinely great fighters like Mayweather (43-0, 26 KO) and Pacquiao (54-4-2, 38 KO) ply their trade is not lost on boxing fans. While their steadfast refusal to fight each other is maddening, a perhaps greater concern lingers: Who can eventually replace Mayweather and Pacquiao?
The answer, thus far, seems to be Adrien Broner.
At 23, Broner (25-0, 21 KO), who is already a two-division champion, still has much to accomplish. However, the similarities between Broner and Mayweather are eerie and easy to make. The pressure and scrutiny Broner will consequently encounter during the arc of his career is probably unfair, and it is merely a reflection of his intriguing combination of skill and personality.
But being the "next" Floyd Mayweather isn't enough; Broner needs to be something else.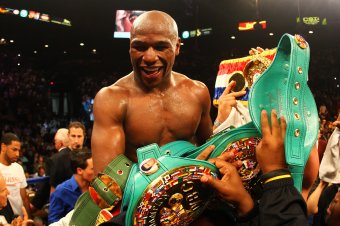 Adrien Broner has a ways to go if he wants to emulate Floyd Mayweather.
Now, the above statement is in no way an indictment against Mayweather. In fact, Broner should seek to emulate Mayweather in several respects, both inside and outside of the ring. However, before Broner strives to don a promoter or business mogul's hat—and there will certainly be time for this—his primary focus must remain on fighting.
With regards to the craft of boxing, there is perhaps no better active fighter's success to aspire to than Mayweather's. Broner has already displayed an uncanny ability to use the "shoulder roll" defense and fighting stance; he is perhaps the only fighter other than Mayweather with the requisite physical tools to effectively employ this style.
What makes Mayweather truly unique is the personality buttressing his skills. If Mayweather was robotic outside of the ring, boxing purists would be his primary supporters. Fortunately for Mayweather, few are better at hyping a fight; as a result, he has the rare ability to draw casual fans into the sport.
Whether people are in awe of Mayweather or dying to see him get humbled, they are watching.
In a recent tribute article to the late Hector Camacho on RingTV.com, Lee Groves eloquently describes the "it" factor that few fighters possess:
His [Camacho's] was a life lived in the fast lane. In fact, Camacho was the fast lane no matter where he was or what he was doing. His aura illuminated every room he ever occupied because he possessed a quality that could only be described as "it." It's an asset whose ingredients can't be manufactured or duplicated but Camacho's was felt by those who encountered him. It was magnetic, mesmerizing and irresistible and only Camacho's own unpredictability had the power to change how "it" was perceived.
Adrien Broner's girlfriend has a heightened sense of humor.
Mayweather certainly has the "it" factor, and Broner seems keen on developing and nurturing his own indefinable qualities. The hope here is that Broner remembers that while the "it" factor is natural to a degree, a strong body of work must reinforce it.
"Work," in this case, refers to fighting and winning championships. Whether it's having his hair brushed, offering a fake marriage proposal or promoting his hip-hop career (per RingTV.com), Broner seems to have extracurricular activities in abundance.
Still, all of this is permissible because of what he has accomplished—and what his promise suggests he will accomplish—in the ring.
One of the most exciting things about Broner is his power—84% of his fights have ended inside the distance. While Mayweather has fought a far superior level of opposition, his knockout percentage stands at 60.47. Boxing will only benefit if Broner continues to win titles with thrilling stoppages and if he maintains brutal finishing instincts.
Activity is another concern. Since his May 2007 fight against Oscar De La Hoya, Mayweather has fought only five times and briefly retired. As of 2009, Mayweather has only averaged one fight per year. In fact, after he fought seven times in 1998 at the age of 21, Mayweather has never had more than three bouts in a given year.
Broner, on the other hand, should aim to remain a consistently active champion and make more sustained use of his early 30s (when he gets there).
Simply being active, however, isn't enough. Much depends on who one fights, and one thing fight fans can unanimously agree on is that Broner should never find himself in a situation where he cannot agree to terms with the "Pacquiao" of his era (whoever that might be).
Broner combines skills and antics.
Mayweather's active 1998 campaign was important because it started his impressive run at super featherweight. Mayweather would go on to make eight defenses of the WBC 130-pound strap, and Broner would be wise to eye a championship run of similar length. During his stretch at 130, Mayweather scored a signature win over Diego Corrales, which helped secure two important lightweight title fights against Jose Luis Castillo.
But where will Broner make his stand?
Broner's stay in the lightweight division figures to be brief. That said, unifying titles against Ricky Burns or Miguel Vazquez could be a crucial early step in Broner's career. Cleaning out the lightweight division quickly will also set Broner up for major business at junior welterweight.
It is at 140 pounds where Broner could cement his status as the best fighter in the sport. Fighting the likes of Danny Garcia, Lucas Matthysse, Brandon Rios, Mike Alvarado and Amir Khan would all be major bouts against some of his top contemporaries. While Broner could eventually campaign at welterweight, it appears he will have incentive to stick around at 140 for an extended and lucrative run.
The essence here is that Broner would be wise to actively seek fights with the elite boxers of his generation. Of course, to suggest Broner should abandon his other antics would be foolish; some fighters thrive amidst a certain degree of chaos, and Broner, thus far, seems adept at handling it.
Does Adrien Broner have what it takes to be boxing's biggest attraction?
Does Adrien Broner have what it takes to be boxing's biggest attraction?

Yes

No

Too early to tell
If Broner does the requisite grunt work, his personality will flourish. Broner also has the potential to be the premier stylist of his era. Striking a balance between all of his positive attributes will not be easy.
Heck, even showing some signs of weakness might be positive. If Mayweather—through no fault of his own—has lacked one thing, it is a defining trilogy. This is not to say that Broner losing fights would be good for boxing. It's merely a reminder that boxing requires bravado to pack a literal punch.
Broner, like Mayweather, has the skills to be remembered as a great fighter. More importantly, he has the talent to be "Adrien Broner" rather than the "next" Floyd Mayweather.
But when it comes to general sports fans, hopefully Broner's career won't be clouded by what never occurred.